Book For Sale "Rails, Tales and Trails"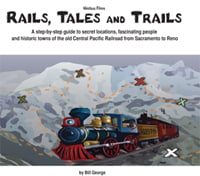 $19.99 – This book is a step-by-step guide to the secret locations, fascinating people, and historic towns of the old Central Pacific Railroad from Sacramento to Donner Summit.  The book shows you how to drive and walk to the sites and understand the story of how the railroad was constructed. You will go from sea level to more than seven thousand feet in elevation and view some of the most stunning scenery in North America.
This is the first time this information has been put together in one book.  This is a combination travel guide and history and explores many of the myths about the railroad and the people who built it.
Find out the real story of the Chinese workers, the "Big Four" and the truth about the legend of Cape Horn.
This book can be read alone, or enjoyed after watching our documentary film, the Hidden Wonder of the World, which shows the incredible tunnels, trestles and mountains crossed by the railroad.
"A marvelous travelogue that masterfully combines the story of building the railroad and shows you how to enjoy this majestic sites today. There are even tips on where to eat along the route."  Walt Gray, television journalist and historian.
---
The Hidden Wonder of the World, the Transcontinental Railroad from Sacramento to Donner Summit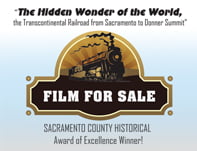 $19.99 – For the first time the hidden wonders of one of America's greatest construction and engineering feats are revealed on camera. The film visits the abandoned granite tunnels, stunning trestles, gigantic cuts and breathtaking scenery traversed by the Transcontinental Railroad as it rose from Sacramento over the Sierra Nevada. Portraits of the picturesque towns and interviews with historians round out this incredible film. People come from all over the world to see these hidden sites. Now you can travel to the summit of the Sierra Nevada and marvel at how the master engineers and builders of the 1860s accomplished this heroic deed. The film won the American Society of Civil Engineers Award for best communications project and the Award for Merit from the Sacramento County Historical Society.
"Bill George brings history to life in this amazing film that explains how one of America's greatest construction and engineering feats was accomplished," Kevin Starr, author and California State Librarian.